Author and Marqueterian
Paul Dea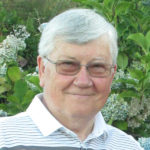 n was born in Birkenhead, England in 1947. After completing university, he entered the computer industry as a programmer. His career took him from England to South Africa and finally to Canada where he settled in Calgary, Alberta in 1980. For the remainder of his career, Paul worked for a company that produced building products, where he introduced computer integrated manufacturing systems. At the same time, Paul completed his PhD through the University of Calgary in 2009.
Paul was first introduced to Marquetry during his teenage years at boarding school. His father was a carpenter, so having a hobby using wood seemed very natural. During his professional career, Paul completed a number of pieces of Marquetry as he developed his skills and techniques. In 1996 he went to the UK and visited with Derick Austin in Wales, who introduced him to the "Window Method" of doing marquetry. The same year he spent a week at Belstead Hall in England attending a workshop given by Ernie Ives, where he learned more techniques. Since his retirement, in 2009, Paul has been able to devote more time to his craft. He recently completed a cabinetmaking course at the Southern Alberta Institute of Technology (SAIT) where he was able to extend his Marquetry skills in embellishing wooden objects and furniture.
Information about Marquetry can be found on various web sites including www.artmarquetry.com and Paul's work can be found at www.marquetry.ca. Marquetry was at its peak in Europe around the 17th and 18th centuries. However in recent years, it has become more of a hobby. This is partly because of the amount of time it takes and partly because of the evolution of the furniture industry. Paul is dedicated to promoting the art of Marquetry by producing works of art in a number of different genres.